Hyundai Wins 3 Newsweek Auto Awards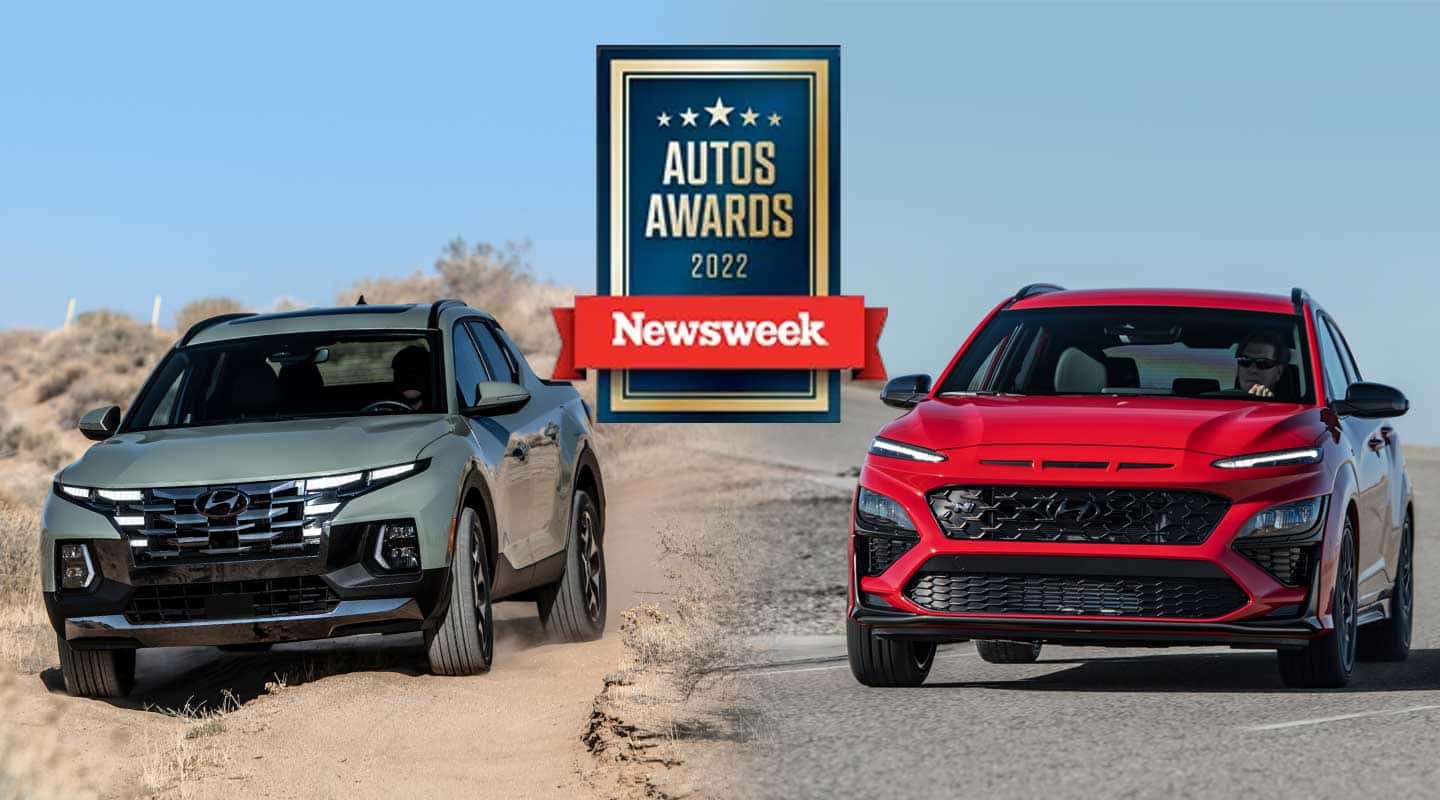 Universal Hyundai is all about giving Orlando drivers the best value for your car shopping dollar and the 2nd annual Newsweek Auto Awards just announced that Hyundai is their 2022 pick for "Best Brand For Your Buck". Additionally, two new models have earned top honors in their respective categories, confirming Hyundai's place as a leading manufacturer of outstanding quality automobiles that are exceptional values.
Newsweek's recognition confirms that Hyundai vehicles provide consumers with tremendous value, more features, high-quality amenities and user-friendly technologies at affordable prices. From the Elantra sedan to the Kona, Tucson, Santa Fe and full-size premium Palisade SUVs, Hyundai continually outpaces the competition in return for your car-shopping dollar. The addition of the fast-charging electric Ioniq 5 to last year's model lineup gives car shoppers an affordable alternative in the high-priced EV market and Hyundai looks to expand that segment with the launch of the Ioniq 6 sedan that will offer the same outstanding value.
"Receiving Newsweek Autos' Best Brand for Your Buck, Best Small SUV for Kona and Best Small Pickup for Santa Cruz awards confirms Hyundai's unceasing effort to produce vehicles perfectly tailored to U.S. buyer needs," said Ricky Lao, director, product planning, Hyundai Motor North America. "With powerful and efficient powertrains, generous advanced technologies, innovative design and comprehensive safety, Hyundai is satisfying its owners more than ever."
Best Small SUV: Hyundai Kona
The Kona subcompact SUV has much to offer. Its gasoline-powered engine delivers an impressive 32 mpg combined and it comes in sporty Kona N and battery-powered EV options. Steering responsiveness and ride have been improved courtesy of a mid-generation update, which also upgraded its outside profile and added high-tech safety and infotainment features. Digital technology allows owners to use their smartphone as a key and owners can also schedule charging using the Hyundai BlueLink app.
Best Small Truck: Hyundai Santa Cruz
The all-new Hyundai Santa Cruz offers substantially more than its chief rival, the Ford Maverick at a comparable sticker price. Its cabin is filled with premium materials and more technology than you'll find in most larger trucks. Notable desirable features include the fully digital instrument cluster, watertight locking tonneau cover and comfortable seats to make your next weekend adventure a fun and memorable one.
About the Newsweek Auto Awards
The 2022 Newsweek Autos Awards highlight the industry's best in 33 individual vehicle and brand categories, including family favorites, recently refreshed models and electric vehicles. Judges rate vehicles in two ways: by test driving them and by comparing their standard and available features and specifications to those of other vehicles in the same category. Over the last year, the Newsweek autos team drove about 200 vehicles, rating them in seven categories: performance, handling and braking, technology, cargo area, seating, interior appointments and pricing. Emphasis was placed on how well the vehicles lived up to the expectations of the target customer.
Your Source for Award-Winning Hyundai Vehicles in Orlando
Universal Hyundai is regularly talking up the entire Hyundai lineup, so we never have any doubt about which vehicles are the best when it comes to head-to-head competition, but it's reassuring when a trusted media source arrives at the same conclusions we have about how great Hyundai vehicles are! If you're in the market for an automobile that gives you the most for your car shopping dollar, visit Universal Hyundai and test drive any one of the outstanding models that we have on our showroom floor and see how far your money will go!